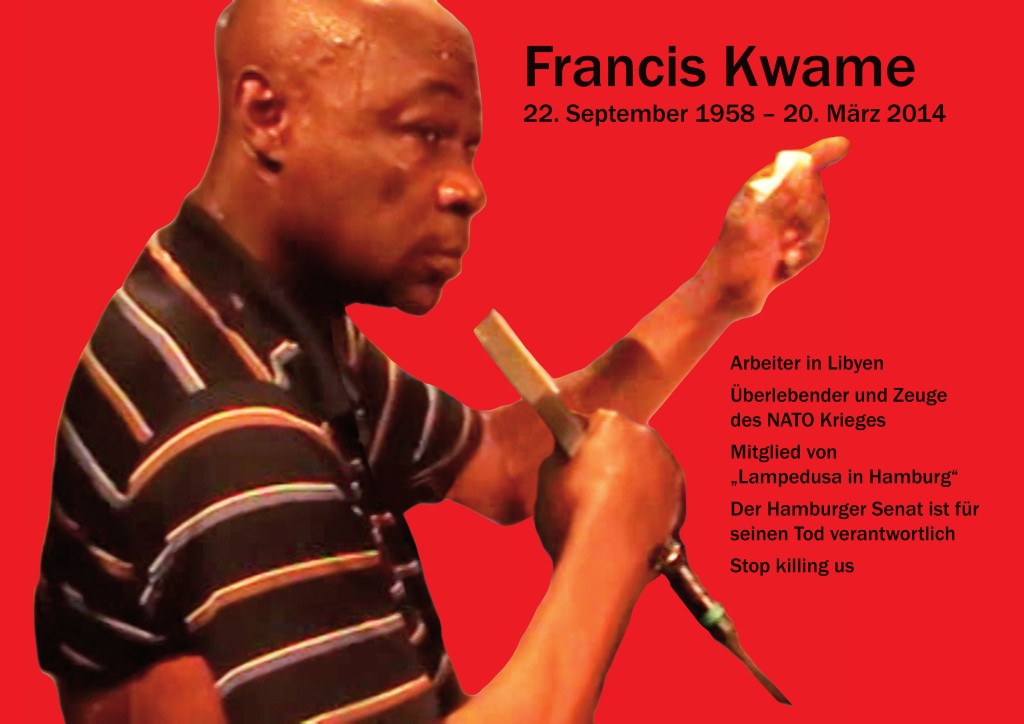 Better to die fighting for freedom then be a prisoner your whole life.  "It's better to die on feet than live on knees". Francis Kwame survived the NATO war in Libya, He was an active member of the group "Lampedusa in Hamburg", but was denied and killed by the senate of Hamburg.  He was traumatized and humiliated by the so called democracy in Hamburg.
Francis lived on the streets of Hamburg. He lived in melancholy and died due to the fact that Hamburg authority sincerely displayed a nonsensical and racist attitude to the rational demands of Lampedusa in Hamburg, which led most of the group members to live miserable lives on the streets of Hamburg. He died because of the lack of basic social care.
The death of this 56 years old witness of NATO war, has posed a message of new revolution to the group and the public. Until the group demands and request to live and stay in Hamburg become reality, we have to keep on fighting. Lampedusa in Hamburg is urging all people who understand the message and importance of freedom for humanity to come out on the 30th of April for the burial of Francis and for a new face of revolution in Hamburg. All the past revolutions were historically inevitable.
We must all know that without a revolutionary mind, there can be no revolutionary movement. We appeal to everyone to recall the meaning of 1. May and to take a look at the situation of Lampedusa in Hamburg. We, the former working class in Libya, are denied and excluded even from our basic rights. We will not deliver ourselves into the german asylum system with arrested development. We will not depend on discriminative state welfare and deal with deportation. We are recognized refugees in the European Union. We seriously demand our working permits here. This is a concrete demand to the Hamburg Senat and a call to the public.
In respect to the 1. May, the day of international workers solidarity, we are confident in winning and achieving our goals with your practical support. We have decided to go on a day/night protest one day before the workers day. We have named the 30th of April to be a day for illegalized workers – for the right to work. We call for solidarity with those who are oppressed and eliminated by the whole system. Come together on the streets and take our demand.
The right to work is everybody's right.
We the workers, are the power!
Rally in remembrance of Francis Kwame – organised by Lampedusa in Hamburg
Wednesday 30. April 2014 | 15.30h
Reesendammbrücke/ Jungfernstieg
 Francis Kwame lives on in our struggle as witnesses of war for survival and the truth.